KARL SUSS – SUSS MICROTEC
Spare Parts, Service and Upgrades
KARL SUSS – SUSS MICROTEC Story
With more than seventy years of engineering experience, the SUSS MicroTec Group specializes in microstructuring equipment and process solutions.
The portfolio includes products and solutions for backend lithography, wafer bonding, photomask processing, as well as micro-optical components.
KARL SUSS – SUSS MICROTEC Services
We have serviced Convacs in high volume FABs in Taiwan, Korea and USA.
Over the years we have progressed from a pure service oriented company to a specialist adding process upgrades to existing machines.
Other Corner stones are refurbishing and remanufacturing of Coater/Developer Chambers, Hotplates, Dispense Arms, Handling Robots and resist pumps.
Customers with special requests to upgrade, refurbish or repair their old Convac are welcome to contact us.
Need a hand with SUSS MICROTEC Equipment?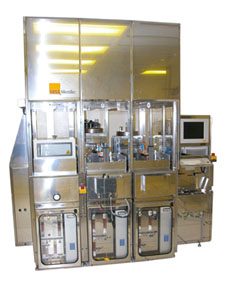 SUSS FALCON / ACS 200 PLUS / GAMMA 60 – 80 / DELTA
We refurbish and repair Suss Microtec Falcon, ACS 200 Plus, Suss Gamma 60/80 and Delta Coater Developer Alta Spray etc.
We refurbish, repair and rebuild hotplates and coolplates and are able to offer improvements.
For the Falcon we offer refurbishments on Coater or Developer Modules. Also we refurbish Dispense arm assemblies, robots, pumps etc.
Over the years we have build up a large stock of spare parts and also complete modules. Our stock includes Novotron Spin Motor controllers, Kobold Spin Motors and other models, PC7 controllers, Lippert Automation Boards, Genmark spares, chucks etc.
SUSS MICROTEC GAMMA COATER DEVELOPER TRACK SYSTEM WITH 2 HOTPLATES AND 1 HMDS HOTPLATE, 2 STORAGE COOLPLATES
We perform full service and maintenance for the Gamma machines.
Service contracts are available world wide.
Online Service Telephone support
Call us if you have strange problems with your tool
SUSS MICROTEC ACS DEVELOPER MODULE
We refurbish the ACS modules to OEM standards
Replacing all fittings and process valves where appropriate we refurbish
We rebuild the Dispense Arm Hardware, exchange stepper motors and slides re-tube and re-wire the system
Calibration of the Arm movements Process testing with the MMC SW Final Testing and pre-acceptance
FULL REFURBISHMENT SERVICE ON CONVAC & SUSS FALCON MODULES
This Falcon Developer Module has been in production for over 10 years
The Module was so badly worn that the module needed full refurbishment
All valves, tubes and fittings were exchanged
The Developer Arm was rebuild with new stepper motors, spindles and slides and bearings
The Module was completely stripped, decontaminated, rebuild and calibrated
The MMC Software is very flexible and allows to take out a defective Module from the Process Flow, so the rest of the Falcon can continue to stay in production
FALCON DEVELOPER MODULE FULL REFURBISHMENT
Taking the module completely apart in different assembly groups. Preparing to exchange cables, tubing, valves. Taking out the electrical parts assemblies and the pneumatical assemblies. Stripping the module to it´s empty shell in order to clean and decontaminate the module.
KARL SUSS ACS 200 CLASSIC
We refurbish and repair Karl Suss ACS 200 Classic tracks and stand alone RC8 tools.
Over the years we have build up a large stock of spare parts and also modules such as RC8 Coater, Developer, HCV and MHU modules.
We refurbish and rebuild hotplates and coolplates and are able to offer improvements.